MATERIALS RELATED TO THE
AMERICAN CIVIL LIBERTIES UNION v RENO CASE
For background information see:
An Obscenity from Congress: The Communications Decency Act of 1996, INDEX to Comments, Cases and Materials prepared by Alan Lewine, President and Adam Goldstein, Secretary of the the American Civil Liberties Union chapter at Georgetown University Law Center. You can find all the information related to the CDA and the related ongoing trials.
THE CURRENT FEDERAL COURT CHALLENGES TO THE CDA 1996
The ACLU Lawsuit:
The 20 plaintiffs in Reno v. ACLU are: American Civil Liberties Union, Human Rights Watch, Electronic Privacy Information Center, Electronic Frontier Foundation, Journalism Education Association, Computer Professionals for Social Responsibility, National Writers Union, ClariNet, Institute for Global Communications, Stop Prisoner Rape, AIDS Education Global Information System, BiblioBytes, Queer Resources Directory, Critical Path AIDS Project, Wildcat Press, Justice on Campus, Brock Meeks dba CyberWire Dispatch, the Safer Sex Web Page, The Ethical Spectacle, and Planned Parenthood Federation of America.
Suit filed 8 February, 1996 by a coalition led by the ACLU to enjoin enforcement of the CDA.
ACLU brief on the merits of the case in support of the motion for a TRO. 8 February 1996.
Government response brief on the merits of the case in opposition to the motion for a TRO. 14 February 1996.
Temporary Restraining Order issued by a federal judge in Pennsylvania 15 February, 1996. This order prevents the United States government from enforcing the "indecency" provisions of the CDA.
Attorney General Janet Reno offers the U.S. government's STIPULATION that the CDA will not be enforced while the ACLU suit for a preliminary Injunction is pending.
The ACLU Lawsuit is the main case against the indecency provisions of the CDA 1996 but there are also other lawsuits filed against the CDA. These lawsuits incluse the The American Library Association/CIEC lawsuit (Suit filed 26 February, 1996, by Citizens Internet Empowerment Coalition. This lawsuit joined with the ACLU lawsuit on the 27th February.), The American Reporter lawsuit and the Clever pro se suit filed by Fred Cherry in the Eastern District of New York.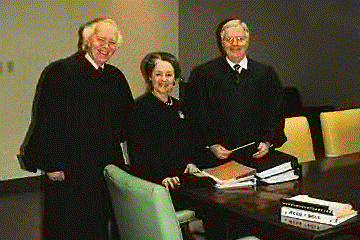 Three judge panel in Philadelphia votes 3-0 that the CDA is not Constitutional on the 13th of June, 1996.


The American Civil Liberties Union filed a motion asking the Supreme Court to affirm a lower court decision rejecting as unconstitutional government censorship of the Internet. The ACLU's brief, filed in answer to the government's appeal of the district court ruling, asks the High Court to issue a "summary

affirmance" -- a finding that the lower court's decision was constitutionally correct and therefore does not merit further examination. See also Internet Law Related News for more information.

The Cato Institute Published a Policy Analysis, 'Beyond the Communications Decency Act: Constitutional Lessons of the Internet' by Solveig Bernstein, Cato Policy Analysis No. 262, on November 4, 1996.

ACLU Sends Supreme Court Passionate Defense Of Free Speech in Cyberspace February 20, 1997

ACLU Press Release - Copyright American Civil Liberties Union 1997.

FOR IMMEDIATE RELEASE

NEW YORK, NY -- Saying that the Internet has "no parallel in the history of human communication," the American Civil Liberties

Union today sent the U.S. Supreme Court a passionate defense of free speech and urged the Justices to prohibit government censorship of the Internet.

The ACLU said a broad spectrum of individuals and organizations filed friend-of-the-court briefs in the case, asserting a diverse range of arguments in support of the ACLU's legal challenge to the Communications Decency Act. In a Supreme Court first, one of the groups will be submitting their brief today on an interactive CD-ROM as well as on paper.

"The breadth of speech that plaintiffs and amici in this case engage in demonstrates that content on the Internet truly is as diverse as human thought," said Ann Beeson, ACLU national staff

attorney and a member of the Reno v. ACLU legal team. "By imposing a censorship scheme unprecedented in any medium, the CDA would threaten what one lower court judge called the 'never-ending world-wide conversation' on the Internet," she added.

In its brief filed today, the ACLU asserts that the government's efforts to end that conversation amount to a flat ban on constitutionally protected speech.

The ACLU's brief notes that the lower court issued 409 separate findings of fact about the Internet to support their conclusion that the CDA is unconstitutional. Those findings comprehensively show that there is no way for the vast majority of speakers on the Internet to distinguish between adults and minors in their audience.

Thus, the effect of the CDA "would be to reduce all of the communication on the Internet to what is suitable for children, a result that the Supreme Court has repeatedly found unconstitutional," said Christopher Hansen, an ACLU staff attorney and member of the Reno v. ACLU legal team.

The government's brief, filed with the Court on January 20, completely ignores the lower court's strong factual record. Instead,

the government attempts to justify the CDA's criminal ban by referring to statements about the Internet made by members of Congress who supported the CDA -- "statements that are directly contradicted by the actual trial record in the case," the ACLU said.

The government also coins a new argument, asserting that the CDA actually protects First Amendment principles by censoring the Internet. A fear of encountering "indecency" online, the government claims, could deter parents and other potential users from exercising their First Amendment right to access the new medium.

"The government's 'fearful parent' argument makes no sense at all," said the ACLU's Beeson. "If it did, controversial material available in libraries and bookstores could be banned simply because parents were fearful of its effect on their children. Furthermore, the government presented absolutely no evidence that any parents or other users were deterred from using the Internet because they were afraid of what they might find." The American Library Association, lead co-plaintiff in Reno v. ACLU, also filed its brief with the Court today on behalf of nearly 30 organizations.

Briefs and related materials

Final Victory - The Supreme Court found the indecency provisions of the CDA unconstitutional in a 7 - 2 judgement on the 26th of June 1997. Read the full judgment here.

See ACLU Brief of Appellees: Reno v. ACLU
---
These pages are last updated on 27/06/ 1997